Browsing articles in "i3 Detroit Events"
Detroit area filmmakers are invited to the "DIY Filmmaker Meetup" this Thursday, Dec. 10th from 7pm to 9pm.
This is a networking event, for filmmakers of all experience levels to:
Meet your fellow filmmakers
Show off your current and past projects
Find opportunities to collaborate with your peers
Recruit cast and crew for your future projects
This event is co-sponsored by Silver Bullet Pictures and Made by Detroit and hosted by i3Detroit, a non-profit, community-based workshop for creative endeavors of all kinds.
Admission is free, but please RSVP here.
For more information contact: thansen@i3detroit.com
So what are you planning on doing this Saturday? Well you are coming out to i3 Detroit to hang out with the members from Chicago's very own Pumping Station: One. A crew of approx. 8 members from Pumping Station: One are heading out this Saturday to spend a day and evening with everyone at i3 Detroit. Their very own Eric Michaud will be teaching a class on lock picking for fun from 8pm-10pm this coming Saturday. If you are interested in taking the class please sign up on the i3 Detroit websites class page. Also if you just want to come and hang out with the members from i3 Detroit and the great people from Pumping Station: One you are welcome to do that as well. If you have a project that you want to work on in the space bring it, if you want to hang out a chat or bounce ideas around that is ok too.
We hope to see everyone come out and meet the crew from Pumping Station: One or maybe you have not been to i3 Detroit yet and have been wanting to check it out. This would be a great weekend to do this. If you have any questions please feel free to contact us.
Hey Everyone i3 Detroit will be at the Detroit Urban Craft Fair this Saturday November 21st from 10am to 7pm. We will be showing the cupcake car after it's debut in the Royal Oak Holiday Parade as well as showcasing a few smaller i3 Member projects. We also have a cool make and take project for anyone interested. If you are interested in learning more about i3 Detroit or you just want to stop bye and say hi that is cool as well. Come and support all the local handmade crafts and art at the Detroit Urban Craft Fair brought to you by the cool girls over Handmade Detroit!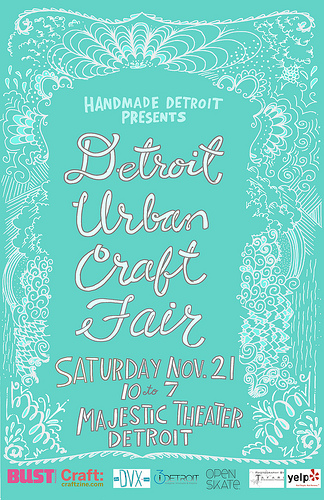 Tonight's Meeting will be starting late tonight at 8:00 P.M! Hope to see you all there!
Everyone's favorite magazine is coming to town to discuss the possibility of having a Maker Faire Detroit in Michigan.  One cannot fathom the awesomeness that would come from hosting this event. 
In between his super secret meetings around the state, none other than Dale Dougherty, founder of Make Magazine, will visit i3 Detroit on November 7th, 2009 at 11 am - 1 pm.  He is the Minister of Make…the Gentleman of Geekdom…the Duke of D.I.Y. and the exploits of i3 Detroit have made it cross country to his palace of periodicals. 
Everyone is welcome to join us in the i3 Detroit workspace to discuss the possibility of a Maker Faire Detroit.  What you would like to see at the event? What talents can you share?  These are some of the questions that will be asked.  We want feedback and insight from everyone.  This is Detroit's event.   
For the regulars, you will have a chance to meet one of the major players (if not the major player) in the Make Movement.  For the newbies, you get the added bonus of touring the i3 Detroit workspace, checking out member projects and getting information on becoming a member yourself. 
For any questions, contact Nick – nbritsky@i3detroit.com – 248.709.3822
For Information on Scheduling a Tour or Interview, please contact:
Matt Oehrlein
phone:
(248) 906-8473
email:
contact@i3detroit.com
Stay Informed – Mailing Lists
i3 Upcoming Events
Friends of i3 Detroit
HackerSpaces Information
i3 Detroit in the Press